SURFING NFT IS BACK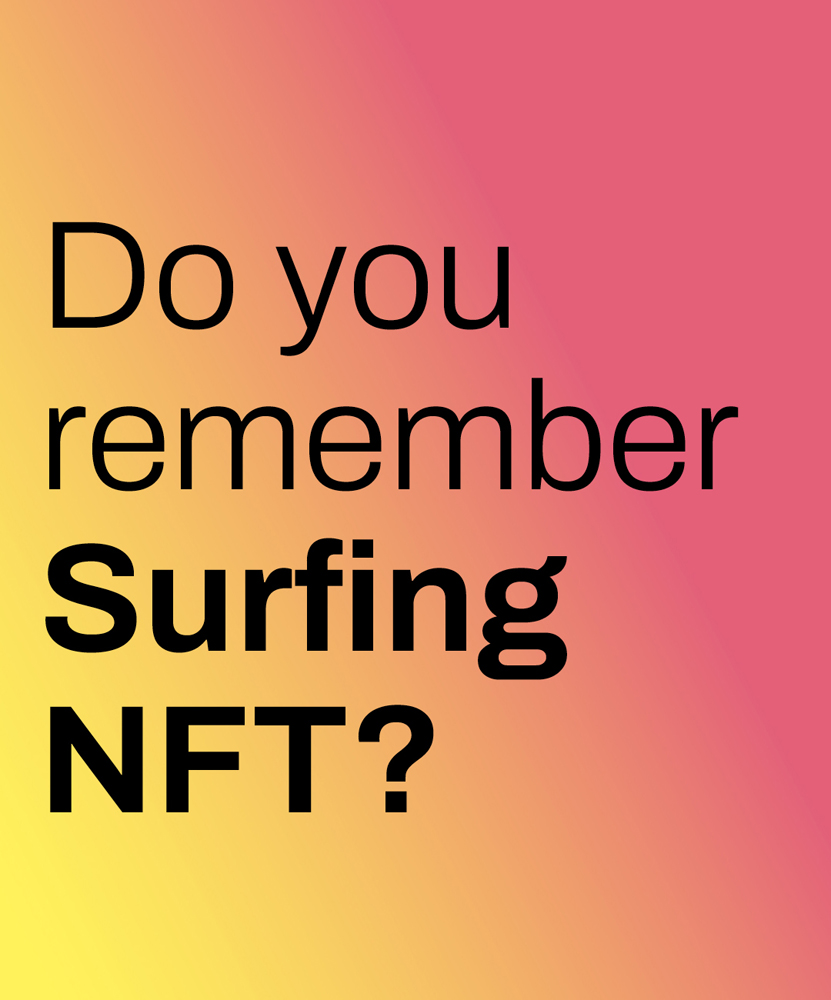 Do you remember Surfing NFT?
Launched at the last edition of the fair, the Surfing NFT project is the result of dialogue between Artissima  and Fondazione per l'Arte Moderna e Contemporanea CRT, in collaboration with the technical partners Artshell and Studio legale LCA. The aim of the initiative is to reflect on the relationship of art, technology and innovation, inviting contemporary artists to experiment with the production of digital artworks registered as NFT blockchain tokens – but seen from a different vantage point.
How does Surfing NFT enter the contemporary debate on NFTs and art?
Today, thanks to NFTs – Non-Fungible Tokens – digital artworks that can be infinitely duplicated for distribution can now have a certificate of authenticity as the property of an individual (without becoming privately restricted works). The NFT code that registers the works on the blockchain guarantees the authenticity of the work. This revolution in the field of art has been accompanied by an explosion of speculation, leading to the creation of digital NFT works of all kinds, levels and authors that are nevertheless a far cry from the contemporary research that has spread in the traditional art market. In the current situation, the Surfing NFT project represents a different approach, because the focus is concentrated on the quality of the work and not on its commodity value, and because the mediating role of the gallerist is not abolished, but is instead emphasized. The project also has a particular perspective on the theme of eco-sustainability: the Surfing NFT platform developed by Artshell will in fact select a blockchain model that is sustainable in terms of energy savings.
What are the phases of the Surfing NFT project?
At Artissima 2021, a jury composed of Carolyn Christov-Bakargiev, Hans Ulrich Obrist and Daniel Birnbaum selected 5 artists to participate: Darren Bader – Galleria Franco Noero, Torino / Claudia Comte – König Galerie, Berlin / Matteo Nasini – Galleria Clima, Milano / Sarah Ortmeyer – Dvir Gallery, Brussels and Tel Aviv / Damon Zucconi – Galleria VEDA, Firenze.
The artists are now at work, getting ready to present their NFT artworks on the project platform developed for the occasion by Artshell. From their ranks, on 9 March 2022 the winner of the OGR Award will be announced, with a work that becomes part of the collection of Fondazione per l'Arte Moderna e Contemporanea CRT, on loan to OGR Torino.
In the meantime, at OGR Torino two encounters have been organized to discuss the theme with experts in this sector, while the social media channels of Artissima will present the participating artists, starting on 9 February.
Save the Date!
13 JANUARY 2022 – h 6.30 p.m
Il mondo dell'arte è pronto per gli NFT? (Is the art world ready for NFTs?)
Speakers: Domenico Quaranta and Serena Tabacchi. Moderator: Ilaria Bonacossa
> see the video
From 9 FEBRUARY 2022
Presentation of the 5 artists competing for the prize
> on the social media channels of Artissima: Instagram | Facebook | Twitter
14 FEBRUARY 2022 – h 6.30 p.m
Galleries go NFTs
Speakers: Johann König and Margit Rosen. Moderator: Ilaria Bonacossa
> live streaming event
9 MARCH 2022 – h 6.30 p.m
Announcement of the winner of the OGR Award
> OGR Torino, corso Castelfidardo 22